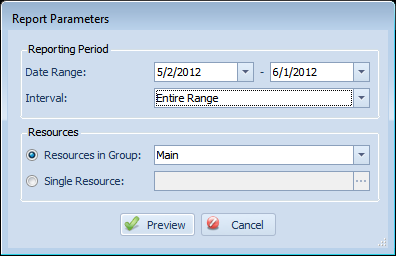 The availability report is run by going to Reports->Availability Report in the main Overseer Network Monitor window. This launches the report parameters dialog, seen below. The report itself is generated once you click 'Preview'-- at which point, you can simply look at it, print it, export it, etc.

Date Range: This specifies the date range for the report. The availability information will only take into account failures during this time frame.
Interval: This lets you define the interval that availability is broken down by on the report. This lets you easily see the monthly, weekly, daily, or hourly availability of a resource.
Resources in Group: This lets you select a resource group to run the report for. All resources in the group will appear on the availability report.
Single Resource: If you want to run the availability report for only one resource, simply select this option and click the ... button to pick your resource. In the resulting screen, you'll be presented with an interface to find the resource you're after.
---
Copyright 2003-2012 Sensible Software, Inc. All Rights Reserved.
Network Monitoring Software