FTP Monitoring Software
Overseer Network Monitor monitors your FTP servers regularly to make sure your customers, support personel, etc. can access the files they need, when they need them.
Overseer Network Monitoring Software is capable of monitoring FTP servers and making sure the credentials supplies are able to login. Overseer can then send message via Email or text message, notifying you of any issue.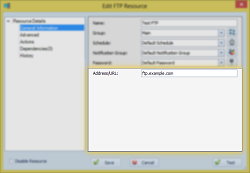 FTP Monitoring Features:
Monitor any FTP Server
Overseer can monitor any FTP Server to make sure it's accepting login requests and logging users in.
Proxy Support
Overseer can utilize a proxy server to login to FTP servers.