Website Monitoring Software
Overseer Network Monitor monitors your websites continually to ensure they're delivering your content to your customers. Be the first to know when your website is down-- not the last.
Overseer Network Monitoring Software is capable of monitoring HTTP and HTTPS websites remotely. Overseer can then send message via Email or text message, notifying you of the issue.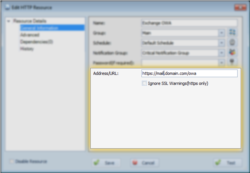 Website Monitoring Features:
Monitor any website
Overseer can monitor any website to make sure it's running and servicing requests to your customers.
HTTPS/SSL support
Overseer can also monitor HTTPS/SSL secure websites. It can optionally ignore SSL certificate errors, which enables you to monitor websites hosted with a self-signed certificate.